Wed 16 Jun 2010
So a lot of news here lately, starting over the weekend with 11 grenade attacks centered around various parts of the capital, and a few more in the past few days. In general, these had no single clearly discernible political or ethnic target, and for example, two recent attacks in Gihosha were committed in one case against the ruling party, CNDD-FDD, and the other against an opposition party, the FNL. More than 20 offices of the party in power have also been burned, a tactic which has been going on at a lower rate for more than a year. Finally, a journalist died under suspicious circumstances.
Then yesterday the rumor mill had many people heading home early. Originally it was reported that two main opposition leaders, Agathon Rwasa of the FNL, which only recently laid down arms and became a political party, and Alexis Sinduhije of MSD, had been arrested. Later the radio reported that the government claimed that there hadn't been any arrest warrant, and that that Rwasa had simply been called in for questioning. In any case, hearing something was up, Rwasa headed home and called out his supporters to surround his home. So far, this had prevented the police from getting to Rwasa, even after they tried shooting their weapons into the air to disperse the crowd. Additional explosions were heard last night, but no specifics yet. And people traveling around the capital today report military demonstrations and troops being moved around, and the current rumor is that they have returned to Rwasa's house, with greater numbers. Also, Rwasa's supporter's had been coming and going, taking shifts in standing in the way of the police, but they have caught on to this tactic and are now blocking access to the area.
I also heard today that the long-time principle of a Quaker peace school in Gitega, who is also quite involved politically, had a grenade thrown at her house last night, with one person injured, though she herself was not injured.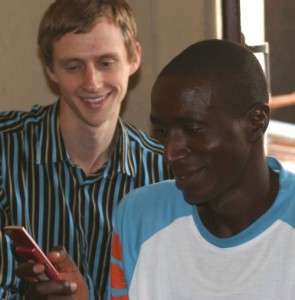 Last week along with my brother and Jessica and Jess, we put together a workshop on using cell phones and SMS messaging (through FrontlineSMS) to create a community-based early warning system and provide an additional channel to collect updates and results of the elections. While it's just getting underway, and we are still in need of more cell phones to provide for our key observers (see my brother's blog for more info), we have already gathered some updates about what has been going on around the country.
---
2 Responses to " Ntivyoroshe: It's not easygoing here "
Comments:
Leave a Reply