Fri 24 Apr 2009
Now that I've been here a while, perhaps some readers are beginning to wonder what I have to show for my time here.  Well, for starters, I wrote a successful proposal for $9,000 to do a goat sharing project to encourage cross-ethnic reconciliation (based on our previous work with such projects, such as I described in Rurengera).  And we recently discovered that a grant that my co-workers and I wrote to the US Institute of Peace has been approved.  This program will build on our Healing and Rebuilding Our Communities (HROC) workshops to create grassroots community networks to monitor and prevent violence in the 2010 elections in Burundi.  The follwing describes the thinking behind the project.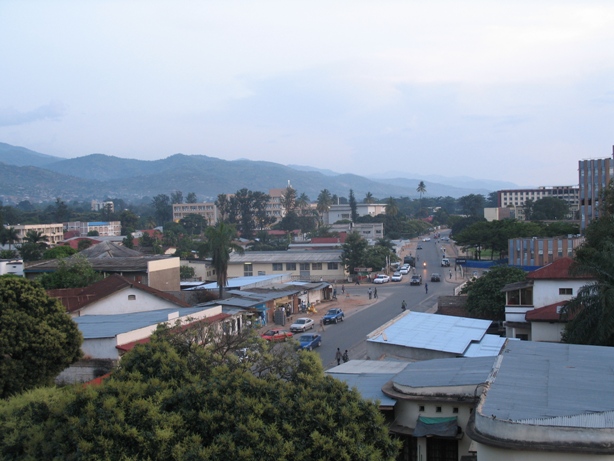 The upcoming Burundian elections in 2010 will be a crucial test of the state of social and political relations in Burundi and will determine whether the fledging peace process will be consolidated or whether all progress achieved to date simply dissolves.
Burundi is at a crossroads.  We have worked so long to get where we are.  My hope is that the upcoming elections will be peaceful and will not return us to the cycle of violence and chaos that engulfed the country.  – Adrien Niyongabo
Among the issues affecting the process are the demobilization, disarmament, and reintegration of ex-combatants and the return of hundreds of thousands of refugees from Tanzania.  But the challenges are also rooted in the post-independence history of elections in which manipulation of "ethnic" differences between Hutu and Tutsi for political purposes has created deep tensions and led to violence.
While some efforts have focused on working with political elites and party leaders to work for a fair and peaceful election, but such high-level gambles are also risky strategies for achieving peace.  This was demonstrated in 1961 and 1993, where a candidate with broad and inter-group support was assassinated, which eventually led to mass violence.  An alternative strategy is to address violence on the level at which it is carried out, building trust and relationships at the grassroots level that would weather possible calls for violence coming from political elites.  Such relationships have prevented violence in communities in the past, as is evident from the regional variation in levels of violence as well as from the stories of the prevention of violence by local leaders and citizens who refuse to take part and encourage others to do similarly.
Such interventions are only possible, however, where people have been able to reconcile "ethnic" differences and healed the trauma in their hearts that is the basis of Hutu-Tutsi animosities.  Otherwise, the "ethnic" division stirred up for political gain in an election falls on receptive ears and ready hands, motivated by frustration and anger or fear.
Some in Burundi also associate their trauma with elections themselves, with the idea of casting a ballot associated with the traumatic violence that followed the 1993 election.  For this reason some refuse to vote and many have symptoms of trauma provoked by hearing political discussions on the radio or in their community, casting a ballot, or other things associated with elections. These traumatic symptoms need to be addressed to so that elections can positively impact communities and all can take part, and also so that people can heal from trauma in the midst of divisive times when politicians are playing on peoples' fear and ethnic identities.
Of course, elections need not be viewed as only a source of trouble, and they have the potential to help deliver good governance and peace to Burundi.  To do so, however, the roots of a participatory, informed, and liberal democracy must be more deeply embedded.  As many have argued, the act of voting itself is not enough to ensure that democracy promises anything more than a destabilizing census on ethnic affiliations.  For elections to help create a stable governance that is supported by popular will, citizens need to be involved in addressing ethnic-based political appeals, observing the entire election process, from vote-counting to media content to the use of police power, and acting as community leaders to demand effective response to community problems.  This grassroots civic engagement is central to the long-term viability of democracy and good governance, and if it is rooted in joint participation of Hutu, Tutsi, and Twa, it will be a strong foundation on which to prevent future violence.
The challenges to the creation of such non-ethnic civic groups include overcoming significant mistrust between identity groups rooted in traumatic experiences of past violence, a tendency towards deference towards political and other leaders, as well as a lack of knowledge about democratic practices.
– Later on, I'll describe more of our plans for this project.
---
One Response to " Steps Toward Democracy "
Comments:
Leave a Reply