Fri 21 Nov 2008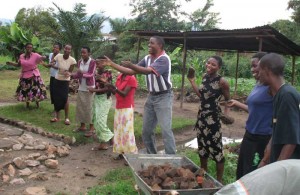 Some of my passions that tend to fall by the wayside in my work are for environmentmental stewardship, addressing global warming, and organic food.  But over the past few months Adrien, Désiré and I have been putting together a program to incorporate these along with our peace work all in one project.
The idea is rooted in a scholarship program for youth who could not pay their school fees that began last year within the Friends church in Kamenge.  Kamenge is one of the poorest parts of the city that saw a lot of violence during the war and is currently struggling to reintegrate many ex-combattatants and others who are returning after having fled the violence.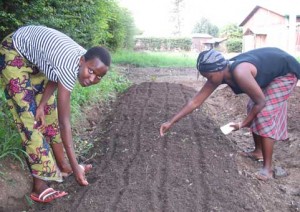 As in many communities in Burundi, when Hutu started attacking Tutsi after the 1993 death of Melchoir Ndadaye, Burundi's first democratically elected, and Hutu, President, many Tutsi in Kamenge fled to areas that were protected by the military.  The military, which has long been dominated by Tutsi, then often made reprisal attacks on Hutu.  Still today many Tutsi live in the internally displaced persons (IDP) camps to which they fled 15 years ago, with the result that neighborhoods are segregated by ethnicity and children have few interactions with those of the other group, allowing stereotypes and mistrust to flourish.
To address this, we expanded on the scholarship program to include youth from both communities (Hutu and Tutsi) and who form part of an ongoing program that meets weekly for group activities, including cultivating a community garden.  Other programming will include trauma healing and reconcilation modeled on our HROC workshops as well as life skills, community building, and environmental awareness training.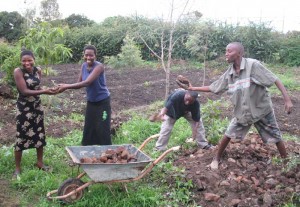 As we began the program three weeks ago, the first thing I noticed was that the kids definitely needed the scholarship help.  Some of them had already been kicked out of classes as a result of not paying their fees (around $30 per term), and so they were very happy they could now return to school.
And so far, it seems that the group is coming together well, with everyone working hard and at the same time having a good time singing songs and joking with each other.  On the second day we met, as we were preparing the land, it began raining and we just kept on working in the rain, which I thought was great fun, and created a great sense of solidarity.
So I'm looking forward to working with this group and getting to know each other.   And if you are interested in supporting this work, we are still trying to gather the funds to provide the school fees in the next term.  Please consider clicking on the "Donate Now" button on the right hand column of this blog and write "Kamenge Scholarship Group" in the donation note.  Thanks!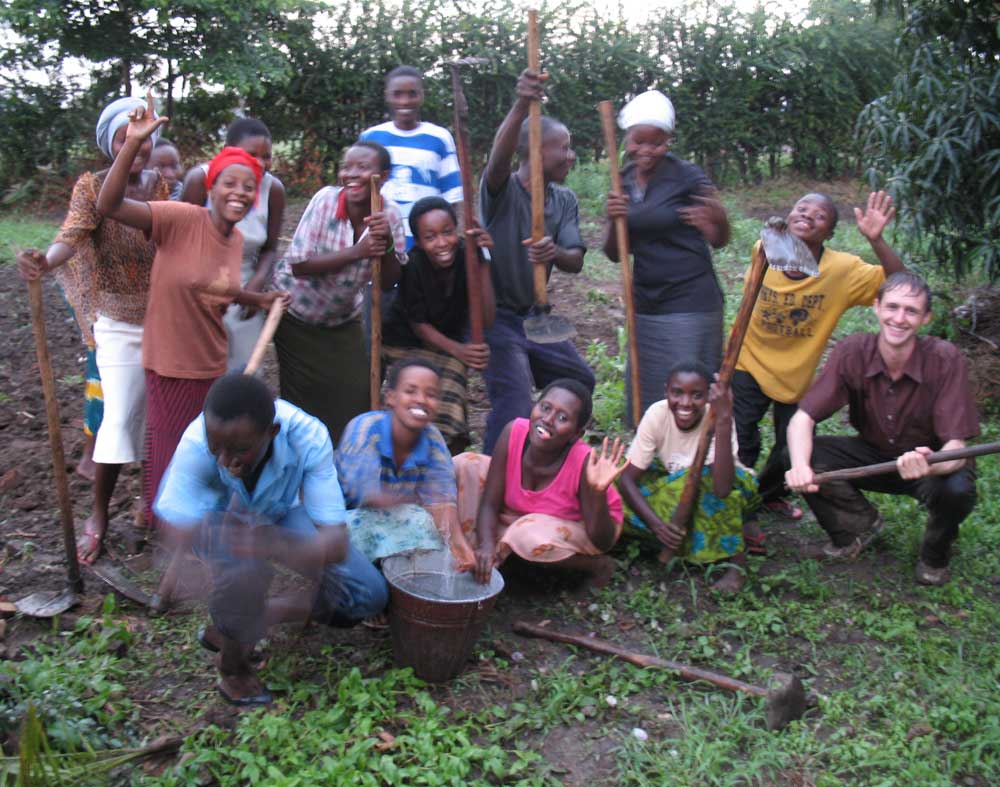 ---
One Response to " Planting Seeds of Solidarity "
Comments:
Leave a Reply