Fri 7 Nov 2008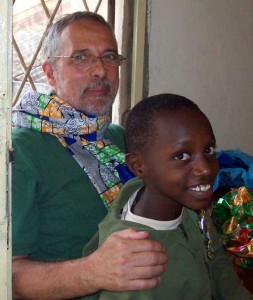 John McKendy, a regular reader of this blog and friend of mine, was killed on October 31, allegedly by his daughter's estranged ex-husband.  John had come to Burundi the last two summers as a workcamper with the African Great Lakes Initiative (AGLI), and in particular helped to build the clinic for the Friends Women's Association.  In the process, he was one of the most thoughtful, caring people I have come across.  While he was here, we would stay up late at night having discussions, and he was always a great thinker and listener.  We continued to converse after he returned to Canada, and I came to depend on his support for me and the work that I'm doing here. 
John was sociology professor, an Alternatives to Violence Project facilitator in prisions in Canada, and was deeply committed to non-violence, and was planning to return to Africa next spring to teach the principles of nonviolence.  He also lived these principles, right up to the end, caring even for those who put him in danger.  In a message shortly before his death he asked that friends hold both his daughter and her ex-husband in the Light, as well as their families.
A small memorial service was held for him yesterday at clinic of the Friends Women's Association.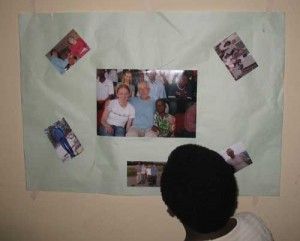 Dear John,
I know, I know, you would not have wanted us to make such a fuss, would humbly have suggested that we just go about our own business.  But you should have seen it, John.  I don't think you had a chance to be at a memorial celebration while you were here – this one was eight hours of sharing food, laughing, crying, singing, praying, and making cards to send your family.  Hours drifted by distantly to soft slow voices singing in harmony to the swaying boughs of the mango tree.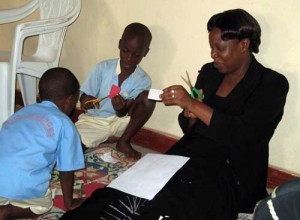 It might well take a degree in sociology to understand what such an event signifies.  You had well experienced the awkwardness of being an umuzungu, a foreigner, here.  Sometimes it feels that even when your intentions are good, you can't quite escape the reverberations of colonialism, as your priviledge and status, freedom to leave, and inability to negotiate local norms and culture means that you are always trampling a bit heavily, always a little bit separate from the local people.  Yet here were 20 Burundians who have experienced the deaths of family and loved ones from war and poverty mourning the death of a white professor from Canada, with absolute sincerety and feeling.  There is something greater than what divides us, and you were part of that.  The people here mourned you because they saw the love and caring with which you lived, for all people, but especially for the least among us.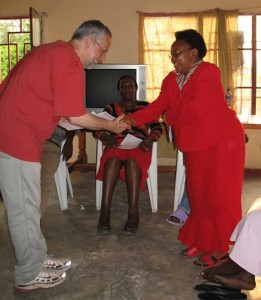 And you should have seen M_, with the many challenges that she has faced in her life, who once thought that rich people could never be good because they had always treated her so unfairly. M from whom words of prayer normally rain down in sheets, she could barely put words together, and she was largely unable to eat she was so distraught at the loss of you.
You were the first person I met who waved to everyone with both hands – always a smile, two-handed wave, and a greeting.  As I told you before you left, if I don't remember anything else of you, I will remember you enthusiastically waving to the people of Burundi with both hands. 
---
7 Responses to " For John McKendy "
Comments:
Leave a Reply