Wed 10 Sep 2008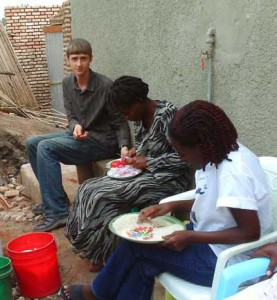 Well it's been almost a month since I last wrote, which is perhaps a sort of unplanned summer vacation from blogville.  But I haven't been just sitting around watching the Jacaranda trees bloom.  I've been working on grants of course, and also did some writing and interviews for AGLI's newsletter Peaceways, which this quarter focuses on Burundi and includes more stories like a few that I've shared here.
At the health clinic run by the Freinds Woman's Association that I also work for I participated in the distribution of donations contributed by friends and families of AGLI workcampers and myself (thanks again!).  It was a fun event, as we all cooked food together, and though I do a fair amount of cooking back in the US, I played the expected role of clueless foreigner, as I've never peeled tomatoes with a knife, stripped cassava leaves, or picked stones out of rice.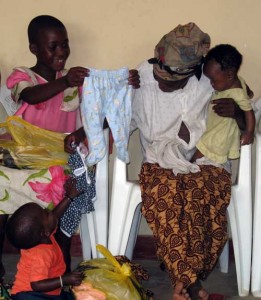 And the recipients, who are people living with HIV/AIDS, were quite greatful for the childrens clothing and other materials that they received.   In fact it felt a little bit like Christmas as they opened their bags delighted to see what they had received.
Coming up next: A trip to Kenya for the Alternatives to Violence Project Internation Gathering.  I leave Saturday on a 15-hour bus ride through Rwanda to Kampala, Uganda, and then take another bus on Sunday to get to Kakamega, Kenya.  So with any luck I'll have some good pictures to share and a story or two when I get to the internet again.
---
One Response to " Peeling tomatoes "
Comments:
Leave a Reply