Mon 7 Jul 2008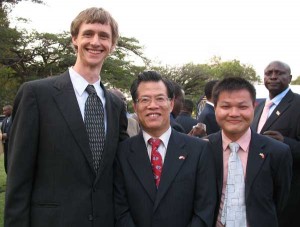 A quick run down of what I've been up to lately. First, the rest of the story of Burundian Independence Day, when we went to a reception hosted by the President. The reception was held on the golf course (where I often go running) with an open bar and the wonderful drummers that were also at the parade (see video below). The crowd was filled with members of the military, embassy staff and other government officials, so our mingling was quite fun and the whole atmosphere a bit surreal. I spoke a little bit of Chinese with the Chinese Ambassador and also with a Chinese businessman. When I asked the latter where the best place to get Chinese food was and he gave me a suggestion and then also kindly invited me to his house. I also met the ambassadors for the United States and Britain, a Bishop, and (briefly) Pierre Nkurunziza, the President of Burundi. People took his willingness to mingle with the crowd as another sign of confidence in the current peace. Meanwhile Sara was off dancing with the Minister of Arts and Youth, which a number of people mentioned they saw on TV (as well as us sitting in the stands for the parade).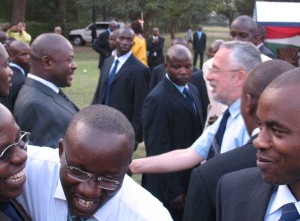 Then on the 3rd, I went to a 4th of July celebration at the US Ambassador's house, and met more ambassadors, military personnel, and others. Perhaps the best part though was the brownies and chocolate chip cookies. I met some strange people, such as a military person who had been stationed in the Congo but didn't actually know where in the Congo he had been, and another military adviser who was training troops for Somalia but couldn't name a single language they speak there. Suffice to say it was good to be back amongst the Western-educated elite.
On the 4th of July the workcampers and I held a little celebration at our house for about 15 Burundian friends. It was rather hastily organized, but we managed to cobble together a movie and some popcorn, peanuts, sweet bread (a cake approximation), cookies and Fanta. We originally had plans to buy ice cream but it cost $29 for about a pint (I suppose because it has to be refrigerated as it is trucked in from Kenya or Tanzania?). To be honest, the atmosphere felt a little flat until at the end all the Burundians burst into lively song and dance and raised the spirit of the whole evening.
This week I am planning to travel up to Rwanda to do some research for a grant we are working on, so hopefully that will be interesting.
---
No Responses to " Days of Independence "
Comments:
Leave a Reply