Tue 1 Jul 2008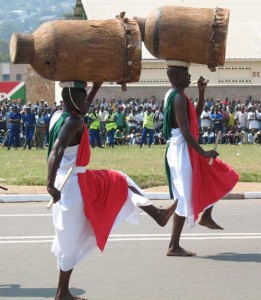 Today we celebrated the 46th anniversary of Burundi's independence from colonial rule under the Belgians. Pastor Eli made it extra special by arranging a meeting for us on Sunday with a fairly high ranking member of the government who scored us special tickets to see the parade and to a reception hosted by the President. So at 8 a.m. I left with the other members of the AGLI workcamp – Vanessa, Sara, and John (who are here for a month to help build the clinic in Kamenge) to near the stadium where the parade took place. We were seated in a grandstand with some high-ranking members of the military and of the judiciary, next to the grandstand with ambassadors, the President and the legislature.
Also attending this year was the leader of the FNL (the rebel movement now at peace with the government), which made for a historic day, with much hope and joy, and according to Pastor Elie, much more openness and feeling of solidarity within the event.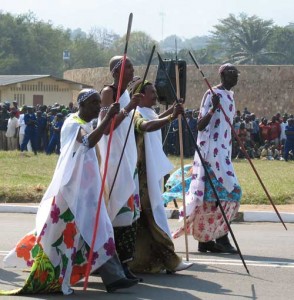 After everyone had arrived and the flag was raised, the parade began with schools, associations, and representatives of each commune in the city. It included everything from gymnasts jumping through flaming hoops to kids dribbling soccer balls, dancing, and playing tennis over a banner, to drummers who were so flexible that they could kick the drum that was on their head as they walked.
Then we watched more than an hour of the army and police marching by, over 5,000 troops by my estimate. After a while one platoon starts to look about like the next, although one in particular stood out since one of its members had lost his suspenders and his pants were falling lower and lower with each (uninterruptable) step, until they were just above his knees. I suppose a few thousand people might have noticed if he fell out of step to pull them up, but instead those same thousands were laughing at him for a good 10 or 15 minutes.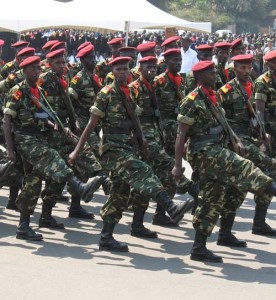 The president's speech, which was punctuated with drumming, naturally celebrated the inclusion of the FNL in this year's event. He speech also seemed to revolve around the idea of recognizing the good in people. He said that Burundians needed to change their culture in that although they often say how wonderful a person is after they are dead, they do not do a good enough job of praising people while they are still alive.
The President then introduced officials from Rwanda and DRC to speak briefly, gave some closing remarks, and the day lacked only (what else?) people driving by on motorcycles at high speed standing up. With one foot in the air, like a yoga pose.
Quite a day, and it's getting late here, so I will save for another post the story of the reception and meeting President Nkurunziza.
---
One Response to " Burundian Independence Day "
Comments:
Leave a Reply