Thu 29 May 2008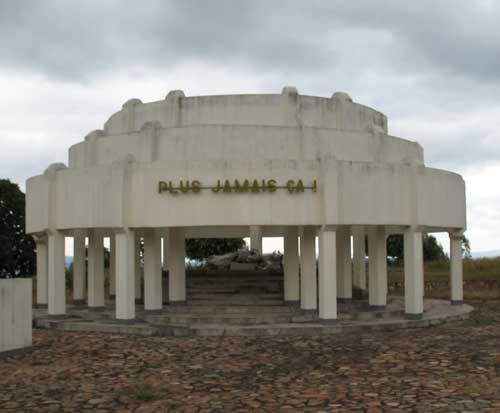 Yesterday I traveled up country to the town of Rurengera to observe the delivery of 11 goats to some widows who lost their husbands to violence. Rurengera is about 2 hours outside of Bujumbura towards the center of Burundi, beyond the city of Muramvya.
On the way, we stopped at Kibimba to give a lift to a Friends pastor there. Kibimba was where Quakers started their first mission in Burundi in the 1934. (Read more about Quaker and AGLI involvement with Kibimba here.) Also, outside Kibimba we stopped at a shrine to honor the memory of a massacre in which over 100 the Tutsi children were burned in their classroom. The memorial reads "Plus Jamais ça!" (Never Again!)
We then made our way onto Rurengera. Although AGLI is not primarily an aid organization, a few years ago they decided that it would be worth supporting a group of widows in Mutaho, not far from Rurengera, and those widows are now passing on the favor by providing these goats. The name of the widow's organization is Rema Ntiwihebure, or "Have courage, don't lose heart."
We all greeted each other with a big round of hugs, then started with a celebration in the Friends church to commemorate this happy day. There were a number of speeches, between church and local leaders, and leaders of the widows groups, and Florence and I representing AGLI. A few of them mentioned how having a "muzungu" white person, i.e., me, made the event more special, and one suggested, playing off the name of the group, that the fact of my being there should give them even greater courage.
Now I can understand when people say (as they have) that having a muzungu at a wedding makes it special since it would be special to have a Burundian in a wedding in the U.S., but here I am watching these strong, proud, widows who are moving forward with their lives after the loss of husband, and to think that my (privileged, mundane U.S. middle-class) presence should be an inspiration to them? I was a little embarrassed at the thought.
In any case, the association outlined the principles by which the goats would be cared for, on which they had decided collectively. There were 11 goats for 20 widows, so each woman would care for the goat in partnership with one other women, and the extra goat would be cared for by the church leadership. When the goats have kids (beyond replacement level?) they will be given to another group of widows to continue the gift.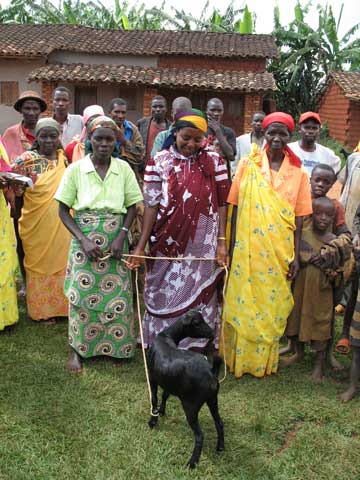 After formally handing over the goats, which were each given a name such as "Peace," "Love," "Gift," and so on, the woman sang (above). Also, they explained that even as the goats were outwardly different – different colors, etc., they were all fundamentally goats, and they could all get along as such. Meanwhile, the goats were apparently not taking this lesson to heart, as two of them were eagerly butting heads.
Afterwards, we had a meal together in the church, which was for some people the first time they had eaten together with a muzungu, and then said our goodbyes.
On the way home, the muffler fell off but we tied it back on, and then we were stopped at a road block outside of Bujumbura. They close the roads at 5 p.m. for security reasons, and the soldiers were hoping to extract an extra few beers worth in bribes (which we would not have paid) given that there was a muzungu with us. But a truck behind us paid to get through, and when they opened the blockade to let the truck pass we just went through ourselves with no problem.
---
3 Responses to " Goats for Widows "
Comments:
Leave a Reply