Sat 10 May 2008
So after a few long plane rides I successfully made it to Bujumbura!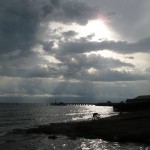 No flight troubles, no baggage trouble, no visa troubles, and Adrien (who I will be working with) was there to greet me at the airport. So I found myself quite relieved to be here, and very relaxed. Things have a definite calm feeling about them. And after months of preperation its great to actually be here and ready to do something.
Not that I got right to work. Saturday is wedding day in Burundi, and Adrien took me to the wedding of a friend of his. Weddings in Burundi are pretty large affairs (150, 200 people?), and you get the sense they make up a sort of social circuit.
The general trend is to start with a ceremony in the church, then drive to have their picture taken at various sites around the city the "Tree of Love", the beach, etc. Next, the stream of cars, with hazard lights flashing (we saw three other such wedding caravans as we drove around), makes its way to a reception with music, remarks by the father of the bride and groom, and – the Burundian equivalent of an open bar – a free soda for everyone.
What a wonderful way to start my time here in Burundi, with people coming together to celebrate new beginnings, their commitment to care for another, and the joining of two families.
Next up: church tomorrow morning, and then perhaps a trip to the beach (hey, it's Sunday…)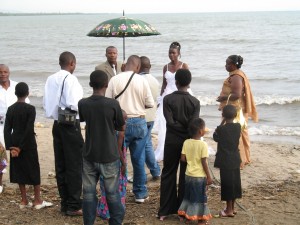 To see more photos, and even a video of the wedding reception, see my flickr page.
---
No Responses to " Arrival in Bujumbura "
Comments:
Leave a Reply